Run LAMMPS in Parallel with Sabalcore's HPC Cloud
Not all Clouds are built for High Performance Computing. Sabalcore's High Performance Computing Cloud is specifically designed to run scientific modeling and simulation applications.
Sabalcore hosts LAMMPS as part of our High Performance Computing Cloud. Run large LAMMPS simulations in parallel using our highly customizable and easy to use environment.
LAMMPS ( Large-scale Atomic/Molecular Massively Parallel Simulator) is a classical molecular dynamics code. It provides potentials for solid-state materials (metals, semiconductors) and soft matter (biomolecules, polymers) and coarse-grained or mesoscopic systems. It can be used to model atoms or, more generically, as a parallel particle simulator at the atomic, meso, or continuum scale.
Sabalcore supports many scientific modeling and simulation applications including LAMMPS. LAMMPS is pre-installed and ready to run. No configuration of the software is required. Everything is ready to use. Simply log into the service and run your models. Easily select the parallel CPU configuration you require for your particular model.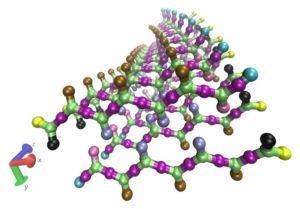 Sabalcore's powerful remote multi-processor infrastructure enables flexibility and provides access to compute resources for variable demands and time periods that can scale-out depending on workloads. Have the flexibility to control costs via pay-per-use access or hybrid combination of pay-per-use and client-dedicated hardware. Offloading workloads to Sabalcore provides the flexibility and cost benefits and enables greater agility in a competitive landscape.
Sabalcore offers discount pricing for qualified students and educational institutions. Visit the Academic page for information about HPC in the Cloud for academics.